An Inspiration To Young 'Entrepreneurs' And A Fastest Growing Company In The Lv Domain – Business Connect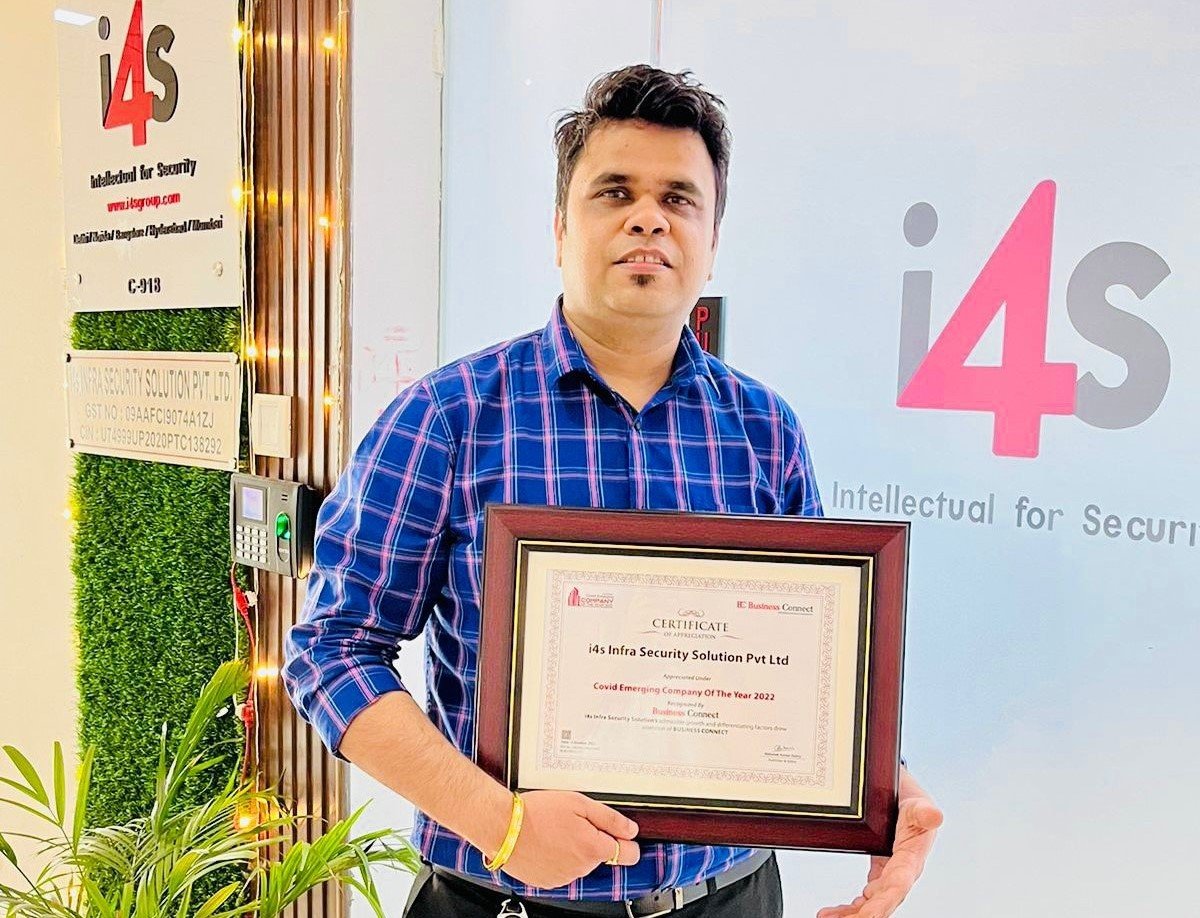 November 7, 2022
BCM: FOR A BETTER UNDERSTANDING OF THE READERS, LET'S HAVE AN OVERVIEW OF THE COMPANY AND ALSO A GLIMPSE OF YOUR MISSION AND VISION.
Navodit: I4S is a combination of 1 (I) & 4 (S) – it stands for Intelligence | Supervision | safety | Security | Surveillance. As the name implies, we are in the Low Voltage industry, which includes the mandatory compliance of the building such as FAS, PA, ACS, Surveillance, Data center compliance, AV, Rodent, Boom Barrier, Tripods, DFMD, Baggage scanner, and many more before going live of their corporate spaces.
Now, if I talk about the vision of the company, we are working to be a leading solution provider in Physical Security & Surveillance industry. Our vision is to achieve customer satisfaction, quality, and continuous profitable growth, thereby becoming a trusted partner of choice for every customer for all their Physical Security service needs. And if I throw some light on the mission of the company, we shall deliver quality services to every customer, thereby ensuring customer satisfaction through excellence in execution and delivery.

BCM: WE ARE VERY CURIOUS TO KNOW ABOUT THE JOURNEY SO FAR. ALSO, CAN YOU PLEASE
EXPLAIN THE TRANSFORMATION YOU WITNESS IN THE INDUSTRY SINCE ITS INCEPTION?
Navodit: Sure! I think you can get a fair idea from my Blog (that's there on our website) – where I have
mentioned my entrepreneurial journey from an Engineer to an Entrepreneur. I am 34-Year-old and a true witness to the journey of this organization from zero to multi-crore in just 2 years and the credit goes to our clients & entire I4S Team. As an experienced entrepreneur, I am running startups from the year 2016. So far, I have completed 6.5 years in my entrepreneurship career & I4S would be mine 3rd Successful Venture, and one thing I could realize is that if you wanted to be a successful entrepreneur, your decision-making ability and your temperament should be as best as possible. Now, if I talk about the transformation in the industry so far, I could say people in India and Govt., have understood the importance of startups and they are playing an important role to maintain the GDP of India. A successful startup doesn't need anything apart from the depth of market knowledge and creative ideas to start with (The same we did 2 years ago while creating I4S).

BCM: PLEASE EXPLAIN THE PRIME USPS OF OUR ORGANIZATION. WHAT DIFFERENTIATES YOU FROM YOUR OTHER COMPETITORS?
Navodit: One of the prime USPs is our approach toward R&D. I strongly believe that the importance of R&D depends upon business to business. At I4S, we are focused on getting our project engineers certified in various technologies like Vanderbilt, HID, Honeywell, Matrix, Hik vision, and many more so that we can understand and provide the best-suited solution to our clients. Secondly, if I talk about the Marketing strategies in the company, our maximum business happened via references. Wherever we have done or executed the projects, we usually get referred by our clients. Moreover, we get good leads from the brands, which we are selling like Honeywell, and Hik vision, and recently we have been awarded by a few of the OEMs as well. In the LV industry, there are very limited solution partners, who have a team and certified Engineers so they become our strength to play and grow in this industry. Lastly, I strongly believe that our organizational culture is a great ingredient in our success recipe. We have a healthy work culture at I4S. Being in the service industry, we are entitled to serve our clients 247365. We are taking our team for onsite visits so that they can get more closure to the organization and they understand the values of the company. We organize regular training for our employees and workshop for them for getting
them trained in the technology.

BCM: WHAT ARE THE MILESTONES THE COMPANY HAS OVERCOME SO FAR?
Navodit: At present, we are a multi-crore company that recently touched the 20 crore mark in just 2 years. We started this venture during the worst timing of COVID in the year 2020, and by God's grace and the best efforts of our team, we have reached double-digit organization in 2022. I4S young and enthusiastic team – take this as A positive gesture- Like Companies were doing lay off in 2020 or may deducting the salaries – whereas I4S not only even paying the full salary to appreciate the efforts of the team, we were giving them regular quarterly incentives too. Our objective is to push people to focus on "Do More & Earn More". We have recently received an award from our technology partners and lots of clients' appreciation for doing the best work and handing over the projects on time that keep our morale boosted.

BCM: PLEASE SHARE SOME TOKEN WORDS FOR THE BUDDING ENTREPRENEURS READING THIS.
WHAT WOULD YOU LIKE TO SUGGEST TO THEM?
Navodit: To become an entrepreneur, we don't need any major investment. We just need ideas and market knowledge, and if our business is subjective to clients, then we should understand their pain areas and come out with some remedy as a business proposal to them. That's all about running a company! Your Math should be good and if it's bad – then please hire someone who can calculate the risk for you and take their consent before moving forward.